photo: Ray Webster, 1983

Tomata, 1974-75 in Central Park, New York City.
photo: courtesy of Mary Rocco

Tomata, with friend J.J.Harris
at Schwab's Drugstore
on the Sunset Strip, 1977.
photo: courtesy of Mary Rocco
added March 13, 2002
–from The Estate Of Peter Hujar,
& the collection of John Edward Heys: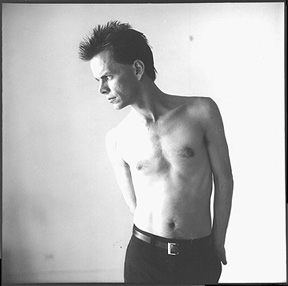 added March 1, 2001: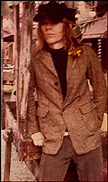 "I call it my Cairo love, turning to my love I said the dead are dancing with the dead, the dust is whirling with the dust, but she said she heard the violin's and left my side and entered in: Love passed into the house of lust."
My name is John Heys-
for me Tomata was the most gifted -talented and friendliest of the whole West Coast group (Angel's - Cockettes- Whiz Kids) who descended upon N.Y. in the early 70's. The qoute above was given to me by Tomata to read, recite do whatever I wanted with in The Palm Casino Review 11. Tomata and Gorilla also but foremost in my memory it was Tomata w/ his talent, comic timing and patience (esp,with Fayette- what an endurance that was) made so much of The Palm Casino Review work and especially The Drawing Room Scene.
I shared a dessing room a corner really every night with Fayette and then John Flowers on my right. It was a bit of an endurance: showing everyone how makeup was done, sorta of S.F. versus N.Y. We must factor in our special indulgences during this time, but there again was Tomata: always the diplomat-resilient and so patient and lucid.
Three notes on this prod:
1. Who can forget appropo- John F- his incredible entrance down the aisle of The Bowrey Lane doing "Devil In A Blue Dress",
2. Diana Vreeland and Cecil Beaton did attend as mentioned somewhere on the w-site but they were first turned away for lack of space and given the state of mind of several of us, thank god someone was coherent and had the presence of mind to let them in. I always defer to The Empress Vreeland as I've portrayed her at La Mama and here in Berlin several times.
3. On Tomata's w-site it should be added that Sheyla Baykal was the producer of both Palm Casino Reviews 1 and 2. She was very ill at the time and finally succumbed approx- 3 yrs ago to Hodgkins' Disease as did beloved Candy Darling. She deserves that credit and her photographic documentation of THE downtown -off theatre, call it what you wish, The Angels'. Hot Peaches , Palm Casino poster portraits and numerous other portriats of downtown or alternative theatre is an incredible photographic documentation of this time. Just as Peter Hujars' wonderful portraits of The Cockettes are. We only have these photos for documentation as far as I know. (Yes I love Tricia's Wedding: rare footage indeed) Time went on and Tomata and I developed a more personal offstage and deeper friendship , plowing the trenches of N.Y.C. in the wee-wee hrs., during CB's time- Screamers- then a gap-then N-Y.'s Eve 1989 in L.A: with Styles in tow ( I luv da guy), Tomata planned everything parties all over the city, finally ending up in a huge loft in old downtown L.A..
Then another gap-early 90's in S.Beach with my then lover- we had two rendezvous there. I mean who else but Tomata would take me to see THE one and only Blaze Star at 5 in the afternoon. There were only 6 people in the audience, but it was great and of course I have an autographed photo of her. Then we lost contact and heard only thru dear Agosto Machado and Styles that he had moved to the mainland (Miami), then N.O. then finally back to S.F.

I have a beautiful Pink Julie London portrait that he gave me in the 80's, a great b&w portrait by HUJAR, pics's of us standing in front of Lucy's house, in front of Maria Montez's former mansion... At least that's what the map, Tomata and Styles said and as you can realize this B.H's: tour was de-rigour for part of my little sojourn to L.A. I regret that we never worked on stage together more. I'm still married to N.Y. despite all the changes, the losses, went on to work with Charles Ludlam, La Mama, more and more. Although I remain totally bullish re: N.Y. I say from my heart that I and so many of my peers, Jackie, Holly so many others thought all of these creatures from S.F., Seattle, Screamers -all were just fantastic.
Dear Tomata-
I treasure our times together-you are with me- so is Julie London and another Divine Brooklyn born Broad Miss Mae West. I commend all of you who put together and compiled this incredible w-site. It's true Tomata du Plenty. I work now with so much history, N-Y, Diaries, 2 books, images, G&L Archives, Billy Rose Collection-if you wish me to scan and print something for you I'm happy to. So many images-some I have already donated to above mentioned archives, I work with others , so many Bon Motts-despite Fay I have 2 great portraits: again by Sheyla Baykal, and dear Link-Luther Teacup- a TRUE original : my first Hujar is of Link. So much about the Cockettes, I tried to find them on the Web, but got a blank page . Much love to everyone out West and forever to dear TdP.
Love John Heys.
E-Mail -
mailto: P.HOUSE@web.de
mailto:Heys@nypl.org
Gay and Lesbian Archives
---
Goodbye,
Tomata du Plenty
By Brendan Mullen
David Xavier Harrigan,
a.k.a. Tomata du Plenty, the dynamic lead vocalist for the Screamers ('77-'81), died in San Francisco on Sunday (August 20, 2000), apparently from cancer. He was 52. Born on Coney Island, Tomata was the son of Irish immigrants. He is survived by two sisters. One of L.A.'s all-time biggest club bands, the Screamers were also its most mysterious. They are renowned as the original punk underground's most popular band, who vanished into thin air without ever releasing a single record, who never officially toured, and who were so far ahead of their time in doing away with electric guitars in aggressive rock that they were called "techno-punk" by local scene scribe Kristine McKenna as early as February '78.
Style and theater were also so much a part of the Screamers that nobody ever called them out for being a punk band with a full-time stylist. Later on, under the direction of Austrian filmmaker Rene Daalder, the band made a series of video clips and short promotional films nearly two years before MTV went on the air. Gary Panter's screaming, hair-raising skull caricature of Tomata has become one of the few recognizable "official unofficial" emblems of the great L.A. underground rock band rebirth of the late '70s.
No one with any management or business skills understood the Screamers or their lo-fi psycho-Kraftwerk-meets-The Night Porter as performance art, yet the band (one ARP Odyssey synth, one Fender Rhodes with fuzzbox, and one minimal drum kit plus Tomata) was still regularly selling out multiple consecutive nights at the Whisky and the Roxy, two shows a night with their meticulously polished productions. Any unsigned band able to rack up ticket sales even half that amount today would stir up a major knock-down bloodied bidding war among several multi-national mega corporations.
Tomata's riveting stage moves were blatantly copped by Jello Biafra and Danny Elfman-goes-New-Wave- with-Boingo After the final break-up of the Screamers in '81, Tomata embarked on a new career as a painter, and after his first show at the Zero One Gallery in '83, he gradually evolved into a revered folk artist who worked the storefront gallery circuit in Seattle, L.A., Miami, New Orleans and San Francisco. (He always said he'd sooner sell 100 of his trademark instant paintings of his favorite artists and other plain folks at $25 each rather than one at $25,000.)
Before moving to L.A. in early '77 Tomata was a beneficiary of Seattle's "one-percent-for-the-arts" policy at a time when there were more than a dozen funded live theaters in the city mostly featuring farcical musical comedies which brought out droves of actors, designers, costumers, and performers like Tomata who were enticed to artist-friendly Seattle looking for low-wage work in the arts. Tomata was a big hit on the thriving Seattle off-theater circuit of the early 70's as a member of Ze Whiz Kidz a lip-sync troupe he originally formed with Gorilla Rose (RIP Michael Farris) in '69.
After opening for Alice Cooper at the Paramount in '72 with a 50's-theme musical "Puttin' Out In Dreamsville" the vitality around Ze Whiz Kidz god-fathered major re-births of local scenes in modern dance, performance art, punk and the gay underground in Seattle. Ze Kidz staged nearly 100 mini-musical/revues with a cast whose stage names included Satin Sheets, Co Co Ritz, Daily Flo, Benny Whiplash, Michael Hautepants (costume designer Michael Murphy), Leah Vigeah and real females Louise Lovely (Di Linge) and Cha Cha Samoa (Cha Davis). After bailing on Ze Kidz circa '74 Tomata formed the Tupperwares an all-drag vocal trio with Melba Toast who later reinvented herself as Tommy Gear (the utterly enigmatic musician-writer who wrote most of the Screamers' classic songs and then seemed to disappear) and Rio de Janiero (David Gulbransen).
Frequently billed together on what came to be known as "TMT" shows, three Seattle bands -- the Tupperwares, the Meyce and the Telepaths -- basically mid-wifed Seattle's version of the late 70's punk-new wave scene. There was also a brief period in New York with Gorilla Rose and Fayette Hauser who performed comedy at CBGB's with the Stilettos (featuring a pre-Blondie Debbie Harry) and the Ramones as opening acts.
After moving to L.A. in early '77 the Tupperwares quickly changed their name to the Screamers after meeting keyboardist David Brown and transplanted Oklahoman multi-media artist-musician KK Barrett. Following the final break-up of the Screamers in '81, Tomata embarked on a new career as a painter whose first show was at the Zero One Gallery in '83. Since then he gradually evolved into a revered populist folk artist who worked the small store-front gallery circuit in Seattle, L.A., Miami, New Orleans and San Francisco where he always said he'd sooner sell 100 of his trademark instant paintings of artists at $25.00 each rather than one at $25,000. With style, grace and humor Tomata once said "everybody must be made to feel important sometime ..."
-Brendon Mullen,
Los Angeles, August, 2000
---







added February 14, 2002

TOMATA DU PLENTY
(1948-2000)


Tomata du Plenty was the Art Critic for the public access cable TV show What's Bubbling Underground? that was produced in the late 1980's and early 1990's. I directed all the episodes in which he appeared. I was saddened to read of his passing. He was a remarkable talent, so I thought I would share a little about his contributions.
What's Bubbling Underground? was a half-hour magazine format show featuring interviews with people on the very cutting edge of culture. It was produced and hosted by Marilyn McConnie, a striking-looking woman of Caribbean heritage and accent, who had the uncanny ability to find amazing people. Each show would feature 2 to 5 segments shot on location in studios, on stage, at dance studios, in museums, and in the street. Then we would come back to the studio and shoot "wrap-arounds" with Marilyn introducing the segments, and Tomata doing his commentary. Marilyn had originated the show in West Los Angeles, but after a few episodes moved the show to Pasadena Community Access Corporation's (PCAC) Channel 56 studio in Pasadena, California. PCAC's public access has always been open and receptive to the video arts, so it became a good, sympathetic, nurturing home for the show. She recruited me to direct the show and edit it with her. PCAC provided all the equipment, studio time, and edit time to her for free. Marilyn distributed the show to many access stations around Los Angeles.
Over and over again I found that people she had featured on What's Bubbling Underground? would appear 6 months later on the cover of the L. A. Times Sunday Calendar section, or the hugely influential L.A. Weekly , or on a segment on a commercial TV station. She could spot the stars before they were stars. Examples of people she featured early in their careers were the artist Gronk, the filmmaker Juan Garza, the actor/performance artist John Fleck, dance director Lulu Washington, actor CCH Pounder, hair stylist Roz Music, artist Peter Shire, actor-poet-producer Daniel Villarreal, and many, many others. She could find people whose careers were just re-emerging after fallow periods, like the painter Peter Max. She featured the Brazilian dance troupe Oba Oba, that I had a real editing challenge to cut all the exposed nipples from their demo tape, yet keep the flow and spirit of the dance. We did a segment on the Montreal Carnival where Marilyn worked for a while. It was an exotic and exciting show.
About a third of the way through our run of What's Bubbling Underground? Marilyn decided to add an art critic. A few months later she also added a music critic, Don Snowden. The art critic, of course, was Tomata du Plenty. Not exactly a household name, Tomata was none-the-less, a local L.A. underground legend, not only for the Screamers, but because he was there at all the events, all the openings, all the street fairs. He was a Player with a capital P in the Los Angeles underground cultural scene, without a doubt.
You would think that a guy like Tomata, who had such a track record performing and acting out in public, would be smooth and cool in a little 5 minute segment on a silly cable access show, but he wasn't. On our first show he was extremely nervous and sweating. It was completely new for him. He was given 5 minutes to say whatever he wanted and show anything he wanted. He had it all written out. He was extremely articulate and knew exactly what he wanted to say, but he was nervous about having it be good. And that is what I liked about him. He cared very much about it. He spent a lot of time preparing his five minutes. He wanted every part of it to be good. Even though it was a reflection of his own personality and his unique on-beat view of the world, he did not use his time to promote himself or to grandstand. He could be a hint of a prima donna, yet he was very open to taking suggestions. He used the time to find interesting aspects of art around him. He usually brought color slides he had shot around town, and would comment on them. Seldom would he choose to comment on art or artists showing at the major museums and galleries.
Tomata loved the street murals that are scattered all throughout L.A. and East L.A. Many of the murals are elaborate and beautiful, but Tomata was more interested in the little ones tucked away in some barrio, or the artwork on a hand painted commercial sign. He was exuberant over the work of a sign painter who illustrated menu signs at a taco joint called Paco's Tacos. And Tomata's poetic sense made him exuberant at saying the very words "Paco's Tacos." He loved finding street art showing women with big breasts. He would spend half a minute describing how an anonymous street artist had painted a strange little dog or the technique used to paint the Virgin Mary as Our Lady of Guadalupe on some liquor store wall. I think Tomata would have been ecstatic if he could have found a painting of Our Lady of Guadalupe with big breasts.
Tomato did perhaps five or six episodes of What's Bubbling Underground?, one of them in a knitted ski cap that was rapidly becoming the preferred headwear in Latino street gang attire. As I recall, that was for his Christmas segment, to give it a wintery feel. He left the show when he decided to move to Miami Beach, Florida. He came back and did his last show in 1989 or 1990 on the storefront art scene and pink flamingo architecture of Miami Beach. And that was the last time I saw him. After he left, What's Bubbling Underground? went a few more episodes and then died a natural death. The show was just too exhausting and ambitious for Marilyn McConnie and myself to work on for free, and also survive in our daily lives. I also have lost touch with Marilyn McConnie who has all the master tapes. However, copies of most of the shows are still stored, as of this writing (February, 2002), in the Masters Library of Pasadena Community Access Corporation.
One of the obituary tributes I read about Tomata du Plenty described him as "mischievous." I found that to match very well with my experiences with him. He was a bit aloof, yet outgoing. Funny, yet very serious. Mischievous, yet focused. I looked up "mischievous" in Webster's Collegiate Dictionary, to be sure I was using the term correctly. It said:
"2 a: able or tending to cause annoyance, trouble, or minor injury b: irresponsibly playful

"
I think Tomata du Plenty was mischievous, but he would never cause minor injury. I think he was responsibly playful. He could be annoying. He could be trouble. But underneath all that, beat an outrageous, yet caring, heart of gold. At least those are my impressions of Tomata du Plenty.

Respectfully submitted,
Kevin Cloud Brechner
Time River Productions
Pasadena, CA
06 February, 2002
---
TO TOMATA FROM ADORE
DU PLENTY YOU WERE
FULL OF LOVE AND ART
DELUXE IN YOUR HUMANITY
BOUNTIFUL WITH WISDOM
APART FROM THE CROWD
YET ONE OF THE GANG
AS A REGULAR GUY AND
A FRIEND FULL OF MISCHIEF
AND FUN.
WHEREVER YOU ARE
YOU'RE HERE IN OUR HEARTS
FOR THE REST OF OUR TIME
AS MORTALS UNTIL WE ALL
MEET AGAIN AT ONE OF YOUR
PARTIES. FOR YOU WERE THE
HOST WITH THE MOST AND
HUMBLE AND PROUD.
TOMATA DU PLENTY
OUR WORLD SOMETIMES
COLLIDE IN OUR VISIONS OF
FAME, WEALTH AND SUCCESS.
BUT YOU ARE THE WINNER
FOR THE SINCERITY YOU OWN.
AND WE ARE THE LOSERS
UNTIL WE FIND THAT SPECIAL
PLACE WHERE DREAMS AND
ILLUSIONS ARE OUR CORNER STONE
AND PEOPLE ARE OUR ULTIMATE HOME.
- Dainty Adore O'Hara
Barstow, California
September 1, 2000
---
In a message dated 8/29/00 3:26:49 AM,

Yvonne.MacGillavry
@thehague.mail.fco.gov.uk writes:
Dear Mr (Brendon) Mullen
Your E-Mail notifying Tomata's friends of his death was forwarded to me by my brother Edward (Eddie) Mac Gillavry with whom Tomata had been sharing a house. Tomata came to Holland a couple of years ago. He stayed with my mother here in The Hague. I was able to show him a bit of the center of The Hague taking time for a lengthy lunch and my mother took him to the beach. We truly enjoyed meeting him and think back to the meal we had at my house before his departure the next day. My brother has kept me informed of Tomata's condition. He had been in touch with Tomata who seemed to be confident of a recovery. My mother and my partner join me in expressing our sorrow. We are all very glad to have known him.
- Sincerely yours,
Yvonne Mac Gillavry
The Hague, Netherlands
August 29, 2000
---
Dear Friends,
Another of our comrades has fallen. I have been informed by Brenden Mullen (who keeps track of these things) that Tomata DuPlenty (of the Screamers) recently passed away due to cancer.
I remember meeting Tomata for the first time at the Whisky a Go-Go. I can't remember who was playing, but I was standing next to Lisa Fancher when Tomata and Tommy Gear walked into the fairly empty room. Both of them were dressed in their "just like London" punk rock fashion to the teeth. Everyone was looking at them. It was as if a recent cover of NME had walked into the place. No one had heard of the Screamers, as they had just moved to town. Lisa, godblessher, suggested that we introduce ourselves to them.
Tomata and I became friends. Not close friends (i.e., I don't remember going drinking with him but we always exchanged greetings and occasionally discussed music and such. I was invited to a grand birthday party for him at Waddles Park). He often told me about the Screamers' plans and hopes. I still remember their first gig at the Starwood. Although I liked Tomata, I wasn't really expecting much (my expectations were very low on everyone back then), but the band blew me away. To me the Screamers were a tekno punk version of Kurt Weill cabaret. I don't think many of the packed Starwood crowd understood what they were doing but seemed to enjoy it because they felt they MUST, because the Screamers were hailed as the coolest band in town, which they were, but for all the wrong reasons. I get the feeling that the Screamers would have existed even if there were no punk movement, but it helped that they were on the cover of the first Slash Magazine, even before anyone heard a single note of music!
After the Screamers broke up and Tomato began his art career, I bought two of his water color paintings from him and he gave me a third, one of which, unfortunately, I have lost somewhere in all the moving I have done since. I found his "affordable art" to be irresistible.
When I moved to Albany, NY I wrote to all my friends to give them my new address. A letter I had written to Tomata went to two different addresses in Florida before being delivered to him. He wrote me a long letter in reply, to which I failed to respond...in it he told me that he had a crush on me back in the day. I was mentally dislocated by this confession. We got back in touch with each other in the last few years, thanks to the miracle of e-mail. I was hoping to visit him in New Orleans soon, or that his art activities would bring him to New York. I sent him some e-mail recently and hadn't received a reply and was starting to worry. Now I know why. I have a little shrine for my friends who have passed: Jeffrey Lee Pierce, Lester Bangs, Richard Grossman, Kickboy Face.
I can use a photo of Tomata to put there, if anyone has one. It can be small and even a photo copy of a picture. thanks.
Love,
Phast Phreddie
PS Please don't die before me.
-Phast Phreddie,
New York, August, 2000
Tomata, with friend Rob Wray at a 4th of July BBQ in L.A..
photo: jm, 1999

Tomata online...
photo: Chuck Fulton
FOR GENERAL RELEASE
Tomata DuPlenty, 52, Punker and Painter
Whose Career Spanned Several Eras
Tomata du Plenty, 52, a prolific stage performer and artist whose 33-year career stretched from the Haight-Asbury to the French Quarter, died of cancer August 21 in San Francisco.
Best known as the lead singer of the late '70s Los Angeles punk band The Screamers, Tomata seemed perpetually ahead of his times. He was in the forefront of the late 60s glitter scene as a member of San Francisco's gender-bending drag troupe, The Cockettes; he then formed Ze Whiz Kidz, his own counter-culture theater group in Seattle. In the late 80s he abandoned performing to become a painter full time, turning out hundreds of vivid portraits that he exhibited in storefront galleries across the country.
Tomata du Plenty (his name was a play on "do plenty") was born David Xavier Harrigan in Queens, New York, of Irish immigrant parents. His family migrated to Montebello, Calif., when he was 9, and Tomata ran away to Hollywood at the age of 16.
He moved to San Francisco in 1968 where he joined the Cockettes, the hippie-glitter theater troupe that staged legendary midnight musicals at the Palace Theater in North Beach. The company's freewheeling shows and rhinestone-studded costumes anticipated and inspired the glam rock scene of David Bowie and "The Rocky Horror Picture Show." Their shows were attended by Diana Vreeland, Truman Capote, and Gore Vidal; their then-scandalous film, "Tricia's Wedding," recast the marriage ceremony of first daughter Tricia Nixon as a psychedelic drag show. John Waters described the Cockettes as " the first hip drag queens...on stage and off.."
Tomata lead Ze Whiz Kids, a Seattle troupe that blended counterculture comedy with drag theater from 1969-1972. The group staged nearly a hundred musical revues with a cast that featured performers like Satin Sheets, Co Co Ritz, Daily Flo, Benny Whiplash, Michael Hautepants (costume designer Michael Murphy), Leah Vigeah and real females Louise Lovely (Di Linge) and Cha Cha Samoa (Cha Davis, now a painter).
From 1972-1974 Tomata joined friends Gorilla Rose and Fayette Hauser in New York City to bring guerrilla comedy to CBGB's and other East Village clubs, working with then-unknown bands like the Stilettos (later Blondie) and the Ramones. "I used to do Pat Suzuki between their sets," he said. In 1972 and 1973 Tomata and company staged two Palm Casino Revues at the Bowery Lane Theater. In between shows, he found time to write an advice column for an adult newspaper and operate a thrift store.
The Screamers
Returning to Seattle in 1975, Tomata formed a band called The Tupperwares with Melba Toast (later Tommy Gear). The band re-formed in Los Angeles in 1976, picking up drummer K.K. Barrett and keyboardist David Brown, and a new name, The Screamers. Brown was later replaced by Paul Roessler.
As much theater as rock band, The Screamers eschewed guitars and featured two keyboards, one drummer and assaultive lyrics mostly written and sung by Tomata. Their sound anticipated the techno rock of the early 80s. Their look--foot-high hair and ripped clothes--was achieved with the help of hair sprays, gels and a full-time stylist (Chloe Pappas).
From 1977-81 The Screamers were L.A.'s leading punk band, and one of the city's leading club draws. They played consecutive sold-out performances at L.A.'s top music venues, including the Whisky, the Starwood and the Roxy, but despite several offers never signed a record deal.
The band's last performance, without keyboardist Gear, was at the Whisky-A-Go Go in 1981. Two years before MTV, it incorporated music video with live performances by Tomata, K.K., Paul Ambrose, Shari Penquin and the Fabulous Sheela. Much of the film was later used in a full-length feature, "Population: One," produced and directed by Dutch filmmaker Rene Daalder and featuring a cast of L.A. musicians and scene-makers, including a preschool Beck Hansen. "Population: One" was screened in 1986 at the Cannes and Seattle film festivals. In 1987 it was screened at the Chicago Film Festival and was later released in Europe and Japan.
On stage in L.A.
Tomata was a prolific stage producer, playwright and lyricist who wrote scores of songs, plays, sketches, and musicales. His stage presence was magnetic, his voice loudly unconventional. He was fond of quoting an old review by Rex Reed, "No talent is not enough," but hundreds of avid fans disagreed.
In 1985 he wrote and performed "The Weird Live Show," a series of unconventional shows at the Anti-Club and LACE Gallery in Los Angeles. Tomata assembled "The du Plenty Players" and staged "A Shakespeare Travesty" at the Ocasco Gallery in 1985, blending the camp comedy and the work of the Great Bard. He joined Fayette Hauser and the artist Gronk in writing and performing in "The Royal Family" at the Lhasa Club in Los Angeles in 1985-86. In 1986 he appeared on stage at the L.A.'s Museum of Contemporary Art in conjunction with Gronk's "Morning Becomes Electricity" show. In the late 1980s he directed a series of short films with Los Angeles filmmaker Kevin Kierer, including "Mr. Baby," featuring Styles Caldwell, and "Pick Up on Olvera Street," featuring Juan Garza. He coaxed 50s TV horror-movie hostess Vampira out of retirement, and featured her in several performances and films.
Tomata the artist
Tomata began his art career in 1983 with a one-man exhibit of watercolor portraits at the Zero One Gallery in Hollywood. Three years later his first paintings on canvas were exhibited at L.A.'s Cheap Racist Gallery at a show called "Whores, Sluts and Tramps" (at the opening party, guests appeared dressed as their favorite low-life heroes).
In 1987, he won the L.A. Weekly's Best Set Design Award for his work on John Fleck's one-man stage show, "I Got the He-Be She-Be's." He directed the Compulsive Players in a performance at L.A.'s MOCA that same year and exhibited at the Bye Bye Gallery with artist Diane Gamboa.
An exhibit called "Knock Out!," featuring portraits of boxers, appeared in 1988 at the Zero One Gallery in Los Angeles. That same year he was the regular art critic on the cable television series, "What's Bubbling Underground," and he guest lectured at the Fashion Institute of Los Angeles. In one of his last stage performances he appeared in "The Loves of Edgar Allen Poe" with Gronk, Fayette Hauser, Janis Segal and Styles Caldwell at L.A.'s Casa Confetti.
South Beach to New Orleans
Tomata continued his painting career after moving to Miami's South Beach in 1989. His exhibits--in bars, restaurants and small galleries around the country--were often arranged around a single theme, saluting his favorite poets, TV stars, country Western singers and boxers. Tomata painted people he admired, from historical figures to friends from the punk world, in a style that was emotional, provocative and accessible.
He was proud of his status as an outsider artist--he once observed he would rather sell 100 pictures for $25 than one picture for $2,500.
In the mid-1990s he moved to his studio to New Orleans. Several times a year he would hit the road for exhibits in California, New York and Florida.
In January 1999 he appeared in a CNN interview, along with series of paintings featuring Lucille Ball, Elvis Presley and other pop-culture icons. Last July, he returned to California for an exhibit at Beyond Baroque in Venice. His opening reception included readings and performances by an eclectic assortment of longtime friends, including the Oh! Sisters, the Groovy Rednecks, Pleasant Gehman and Vampira.
Tomata's last major show, "Black Leather Kerouac," featured watercolors of the beat generation and was held at Cafe Vesuvio in San Francisco's North Beach. Fellow punk veterans Jello Biafra and Penelope Houston performed at his opening.
At the time of his death Tomata was researching opera singers for a planned exhibit at the Glendale Art Library.
CONTACT: Robert Wray 323 934-2492 daytonwray@aol.com
reveived September 9, 2000
TOMATA'S "GODSEND"
I know that many of you not knowing about Tomata's illness have concerns about the last weeks of his life. I just want to assure you that there's an unsung hero that came back into Tomata's life just at the right time. His name is Satz (Satin Sheets from Ze Whiz Kidz and SF's The Lewd). When Tomata came to SF for the Kerouac show it was obvious that he needed medical attention. Although it had been 25 years since Satz and Tomata had spent much time together, Satz took Tomata in and gave him his own room in the apartment building Satz manages.
Because he's an apartment building manager, Satz is able to make his own schedule plus he works right at home. So he was able to be available to take Tomata to all of his doctors' appointments plus got him set up financially so Tomata was able to pay for the expenses of his chemo and radiation, etc. He told Tomata he was welcome to stay as long as he wanted at no cost to Tomata. He even set up a studio for Tomata in the basement of the building. There was nothing he wasn't willing to do for Tomata. And Tomata would so often refer to Satz as his angel and his Godsend.
Tomata's only concern was to get well. All of us, including Tomata, beleived he was going to be getting better. He had finished his chemo and radiation a week earlier and was looking forward to the next week when his doctor said he'd be feeling much better. But all through his treatments, Tomata retained his optimistic humorous attitude. He would compare himself to the other chemo patients and remark how lucky he was to be having such few side effects. It was Satz' great misfortune of finding Tomata's body the morning he died. But I'm so thankful to Satz for providing Tomata with the security and comfort he deserved as his life drew to a close. I hope this helps reassure all of you that Tomata was surrounded by comfort, security and love when he died.
-Chuck Fulton
chuckfulton@earthlink.net
received September 4, 2000
---
This webpage is
an open Guest Book
for all to post any
remembrances of
Tomata DuPlenty
---------------------
eMail:
info@theoretical2.com
Your words will be posted as
received in chronological order.