Note: this page was created as a collaboration with theoretical in 1998 from Tomata's personal photo album.
Tomata passed away on August 21, 2000. We have created a new page in the West Wing
which includes a collection of remembrances from at variety of his friends.


This is the tomatapatch:
A small journey scanned from the photos and journal of artist Tomata DuPlenty.
Except where noted or known, he is the photographer.
Here's the first exception: this photo below was taken by the late Ray Webster.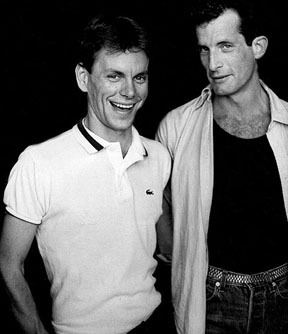 Tomata DuPlenty (left) arrived at a big birthday party for Jim Van Tyne (1984) apparently in tow with Jim Yousling (right). They both looked so collegiate... Tomata in an IZOD shirt? Had they just come from the golf course?
---
Thanks for sharing
all of these memories
Tomata...
Find out more about Tomata by reading
his eulogy to his friend Paul Adrian in The West Wing.
"The vivacious Little Dee" (center). Bob Martin (center, behind), Tomata's neighbor at The American Hotel (above AL's Bar). Arnie Araica (right). The green thing called "Hell-N" (we've been spared the face) greeting patrons arriving to a THEORETICAL at the old AntiClub. And way in the back Bavarian bombshell Traudl Klepper.
3 "funny" guys:
at a once loved hang-out:
Tomata (left), |
your webmaster Jackoretical (right)
and bartender/poet/performance artist/musician Jimmy Bucalo (center).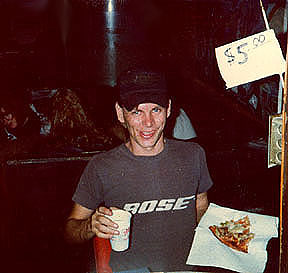 Tomata is doing the Door
this time at a
THEORETICAL @AL's Bar
(about 1986).
---
Another THEORETICAL
Door greeting committee
hosted by Claire Glidden
(center/ultra red) and
Edward Stapleton
(left/blond mowhawk).
---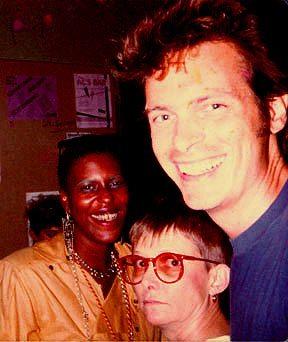 Back at AL's:
A wonderful threesome...
The lovely club maven/musican/singer Tequila Mockingbird (left),
Andrea Carney (once of Age of Consent),
and Terry Dorn (currently of Shoofly) looking like a young Clint Eastwood.
---
And then,
on a chilly day in December 1986 Tomata and artist Daniel Marlos did this THING and the fluff-n-fold up the street from the OneWay in Silverlake. Weird "found" photos were submitted by dozens of friends and the neighborhood laundromat was transformed into a culture palace on a Sunday afternoon...
---
The art at this loft/gallery says "Four Quanta Phases" (a study by R.Buckminster Fuller)... Photographer Linda Burdick (left), that writer Mitch Hansome, Bradley Lapin, and Tomata (right)...
4 Quanta phases!
---
"Networking" at a THEORETICAL.
---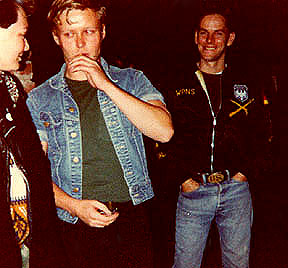 Tomata (right)
watching Rob Wray (center)
listen to the "Theoretical
Door Lesbian" (Shauna).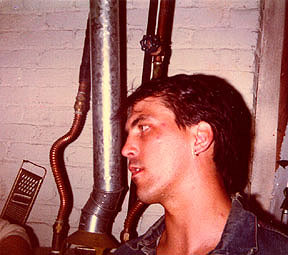 Everyone's heart throb:
The lead singer from B-People
...Alex Gibson.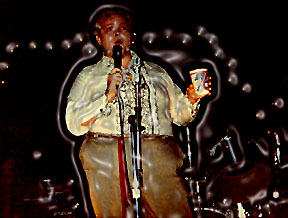 The Great
Paul Ambrose
hosting one of
the first THEORETICALs
(@OneWay, about 1982)
at some art opening...
Paul Adrian (left),
artist/musician Micheal Intriere (center), and Tomata who seems to be saying to himself
"is this safe...?"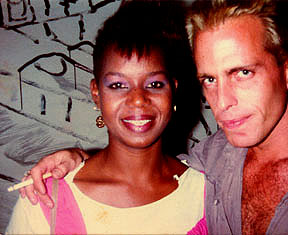 Stacey
(one of the stars
of The Grillo Follies)
with boyfriend at loft party.
Here's T.Billy
sporting his extreme
rockabilly doo,
surrounded by the
Fabulous Oh! Sisters.
Surrounded by
a collection of
Tomata's portraits...
Jim Van Tyne
and best friend Randy Smith.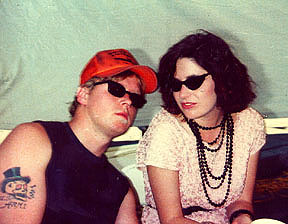 That butch
Rob Wray hangin'
with one of those
Fabulous Oh! Sisters.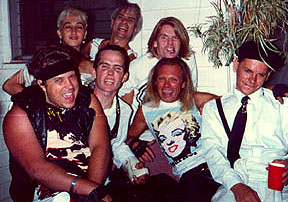 T.Billy's "White Party" brought the extended THEORETICAL Family together one fine summer day... Front: Dave Trapnell (left-to-right), Mark Witten, Benton Quinn, a "stewed" Tomata. Above: "Perpetua" (Carol Cetrone), a daytime soap opera actor (?), and a New York gay activist (?).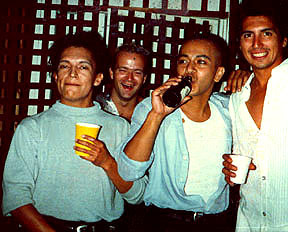 More White Partiers...
names unknown except
Joe Silva (right) who was
Little Dees's first husband.
White Party
host extrodanaire
Mr. T. Billy.

return to Manderley

remembering Tomata DuPlenty

return to The Archives Directory