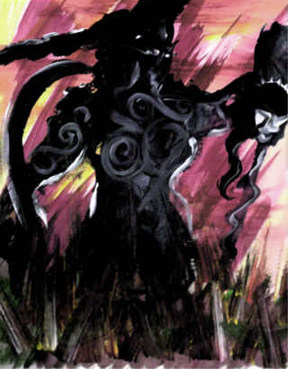 Kali in Grass
by Edward Stapleton, 2001

LIFE HAS NO VALUE
OUTSIDE THE LIVING
(A meditation on walking home from work)
The city blocks sped by as if on a conveyer belt. Lost in thought, conveying no particular meaning, lost on concrete sidewalks traveling in different times and space— like childhood— walking to school, arriving at your destination with no memory of how you got there, so lost in thought"on autopilot — navigating sprinklers and driveways, missing lamp posts and other obstructions.
And if feels good, good to be back in that world of thought, rehearsal, venting. Restating misspoken sentences, justifiably reaming the ogres of your day, going over and over confrontations that should have happened, but never did; and slowly that gives way to other thoughts, drawn from older times, when walking was your private time, your world. And you remember how the world looked through less jaded eyes, and felt, with a less cynical heart.
And the beauty of an old building, which houses millions of secrets, catches your eye and you, once again, suspend your ego and travel back to the place you remember, when living was exploring, and knowledge was a key— and all the office buildings in the world held no interest for you. They were alien abodes, housing dull colorless beings— grown ups pretending to be adults.
by Karene Stapleton, 2001