In the summer of 1978
Edward Stapleton left the band "Paul is Dead" with an idea of starting up a band of his own. He met Phranc while pogoing at a Dead Kennedys' show. Later that month he met Gerardo Valesquez and Michael Ochoa at a "Non-Show" at LACE Gallery.
Both Edward and Gerardo had been raised Catholic, Edward in Ireland, Gerardo in Mexico. Shortly after forming Nervous Gender (the name came from reading Patti Smith's Babble and listening to John Fox (UltraVox) sing "My Sex") Edward showed Gerardo a song he had previously written called Cardinal Newman.
Cardinal Newman was the name of the Catholic school Edward attended when living in London. To his surprise it was also the name of the school Gerardo attended in Mexico. So two guilt ridden Catholic boys exchanged guilt for erotic rage and became creative partners. Originally the band consisted of three synthesizers and a badly tuned guitar, later it would go through a "Guitar" incarnation, but the core sound of the group was synthesized noise.

They were looking to combine the raw, aggressive power of punk with electronic music. Gerardo and Edward were the only constant in the group. The first lineup included Michael Ochoa and Phranc. Phranc was with the group for four or five shows and then joined the band Catholic Discipline and eventually began performing solo. Michael Ochoa was in Vox Pop so his participation was intermittent. During the early 80's Paul Rossler of the Screamers graced the stage with NG for over a year and played homemade synth on the Live at Target album. Don Bolles, of the Germs and 45 Grave, came and went a number of times. At this time Bill Cline joined the band and played synth for two years. Both Don and Bill performed on the Music from Hell album.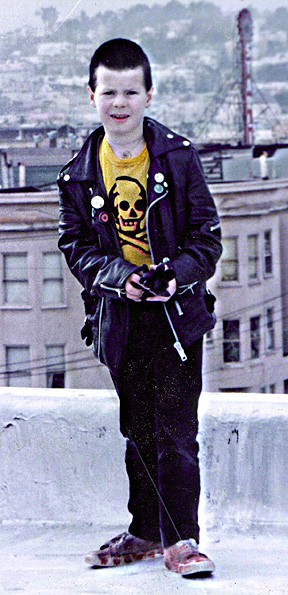 Sven Pfeiffer, an 8-year old German drummer, followed Don. Sven was in the band for approximately 2 years until his mother decided that they should go home to Germany. In the mid 80's Bruce and Mark Moreland, along with Chaz Gray and Ned, (Wall of Voodoo) helped form the guitar incarnation of NG.
This became the basic line up, in various configurations, up until 1988.
At that time NG returned to its original lineup of Edward, Gerardo and Michael, minus Phranc. Edward bowed out in November of 1988, while Gerardo, Michael and Joe Zinnato continued to perform as NG until Gerardo's death.
---
From the very start the guys from Wall of Voodoo were extremely supportive of what Nervous Gender was trying to accomplish. To give us broader visibility, they booked us to open for them at venues which were normally off limits to punk and industrial bands. At one point Bruce Moreland found out that we were about to disband. He came over to our apartment and told us that he wanted to be our new bass player and that Ned wanted to drum for us; then came Marc and Chaz with a lineup like that we'd have been crazy to quit.
At a show at Variety Arts, Joe joined us on stage playing bongos and whatever else he could hit. This lineup became the guitar incarnation of NG and we performed regularly for a number of years, whenever WOV were not touring.
Sometimes nicknamed Wall of Gender,
this incarnation featured Bruce Moreland
of Wall of Voodoo (performing at Phenomenon
at Fiesta House, Los Angeles, 1983).
---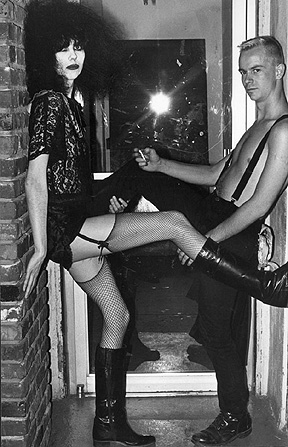 Gobscheit was aside project created by Edward Stapleton and Patrice Repose, with Gerardo working the sound board. It was an opportunity to put more emphasis on the words (synthpunk poetry) from a female point of view. The electronic music, in this case, became the backdrop not the main focus. It was an experiment to see if people would accept Nevous Gender's harsh erotica preformed by a woman.
There was a difference, men fell in love with her.