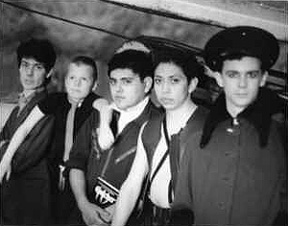 The band at a very early performance
in San Francisco, 1978-79 (est.) Edward (far right), next to Gerardo.

"The Dada Show" 1980 (est.)
Gerardo as lead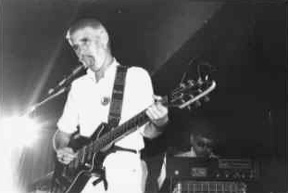 Phranc as the lead singer, 1980 (est.)
at Club 88, West Los Angeles

Phenomenon at Fiesta House show, 1982
Edward as lead
Nervous Gender's
primary aim is to re-insert a much-needed
backbone into electronic music,
give it some testicles.
But how could this be accomplished?
After much consideration and experimentation, they isolated certain elemental sounds, which transformed the format of this genre into a "hominus superbi" lattice. This is accomplished by the use of blatant emotional, bigoted, sexually brazen statements. The context of their songs deal with the seven deadly sins, and the random thought process of politically concerned, guilt ridden, stroke starved, would be sex symbols. Nervous Gender uses their electronic music skills as a envelope for their head butting lyrics. Nervous Gender was one of the four contributors to the 1980 video/record package "Live at Target" which was rather enthusiastically received in France and Germany.
The New York Rocker said of Nervous Gender's contribution: "It is refreshing to hear such an original sound emerging from such a sleepy city as Los Angeles." Some may say Nervous Gender suffers from "Stockhausen Syndrome'" they would say they have "Stockholm Syndrome."
September 19, 1981
(from a newspaper clipping found
in Gerardo's archives, author unknown)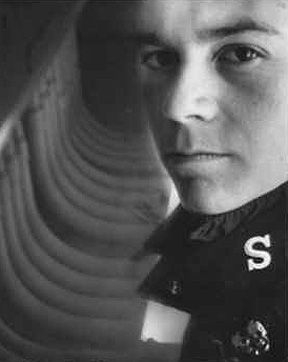 Edward Stapleton, 1980