Who is she?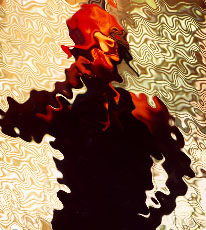 CLUE #1:
He won the Jackie O' look-alike contest on November 22, 1983 at "Phenomenon" (@Fiesta House, Los Angeles)on the 20th anniversary of Jack's demise. It was a wild night, one recalls:
"Craig Lee was the Host and awarded me a bottle rotgut rose champagne, along with a ripped up T-shirt featuring a disturbing graphic of JFK's hairline. I think some tired roses fit in somewhere, too. Oh-- and so did a raid by the LAPD. Robbie Hochderffer (and Jimmy Bucalo) got hauled off, along with a few others, for mouthing off in punk style to officers who kept muttering 'We're Christians!' I made a mad dash to get out of drag before I was thrown in some fruit tank with Cherry Buster and his friends..."
(Door woman "Joannie" was almost taken in, too, thinking that the petite 24 year old woman was an underaged boy!)

CLUE #2:
a.k.a. "stimmo"
email him at his one-way chat room by stimulating

or read Stimmo's latest contribution to this site in The Study